Podcast webSYNradio still available



Jean-Jacques Birgé proposes a playlist from 1975 to 1999 (incl. a 2016 bonus), 18 unissued pieces on Internet, even on drame.org !
http://synradio.fr/jean-jacques-birge-sur-websynradio/

Swing Passions, new CD
by Michèle Buirette


Michèle Buirette wrote original texts inspired by melodies by Gus Viseur, Jo Privat, Tony Murena, Django Reinhardt, Sonny Rollins... It's a refreshing adaptation of the famous jazzmusette. Michèle sings and plays accordion, with Hervé Legeay and Max Robin on guitars, Moïra Montier-Dauriac on double-bass, Elisabeth Keledjian on drums, Linda Edsjö on percussion, Lucien Alfonso on violin, Antonin-Tri Hoang on clarinet and sax alto...
Swing Passions, issue on September 23 2016.
Harpon live in Arles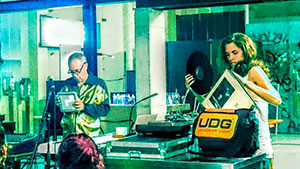 August 1 2016... Three unissued pieces at 30th anniversary of Phonurgia Nova: Hypnotik, Insomnie, Rewind... Amandine Casadamont (decks) and Jean-Jacques Birgé (keyboard, electronics and acoustics)...
Harpon live at Silencio Club, new album
free to listen and download...


Jean-Jacques Birgé plays crazy uptodate machines as well as the oldest instruments of the world while Amandine Casadamont is 100% vinyl... We need so much to keep on dreaming. Recorded in Paris on June 30 at the club designed by David Lynch, HARPON's new album is online...
Avant Toute, new LP by Birgé-Gorgé


For those aware of it, Jean-Jacques Birgé and Francis Gorgé's lone LP Défense De (1975) is legendary. An uncategorizable gem from the French avant-garde, laying somewhere between Prog, Free-Jazz, and the efforts of Groupe de Recherches Musicales. It's a sonic head fuck, and easily one of the most challenging records of the era. Few people know that prior to its sessions, the pair had entered the studio once before. We now find the result before us. I'm a big fan of Souffle Continu. For many years the record shop has been one of my first stops when I arrive in Paris. More recently they have expanded their efforts with a record label profiling wonderful and neglected gems from the French avant-garde. I discuss a few here, for those who want to explore their fantastic efforts further. Avant Toute falls elegantly into the tradition that the label has been dedicating itself to – strange, difficult, and exciting works that often failed to land a receptive audience the first time around. For those aware of Défense De, the territory charted within Avant Toute will be reasonably familiar, falling somewhere between the references I mentioned above. Though I have a strong affection for the earlier release, I find myself enjoying the pair's efforts more in this realization. This may be because it skirts further into more explicitly avant-garde territory, and feels harder to pin down. It's impossible to place within any era. If I knew nothing about it and was asked when it was recorded, I couldn't tell if you it was from the 80's, 90's, 2000's, or yesterday. The one thing I wouldn't venture is the 70's. It stands outside of time. At moments sounding like an obscure modular synth gem from GRM, at others flirting with pure noise and considered cacophony. It's unlike anything I can call to mind (with the obvious exception of Défense De). I never like describing a record in detail, especially when you can listen to it yourself. Who wants to spoil a surprise? In this case, I'm not sure that I can. This is not a record for the faint of heart. It might even hurt a seasoned fan of avant-garde music. For those willing to put in the work, it's a record full of rewards, furthering Souffle Continu's already astounding body of work. You can listen below or pick it up from the shop if you're in Paris, or order it directly from them, or Soundohm if you are in Europe, from Forced Exposure if you're in the States, or from your local record shop. Get it before it goes, and climb on for a wild ride. (Bradford Bailey)
French BLOG + All pieces from AVAN TOUTE on SoundCloud + live concert at Souffle Continu by Jean-Jacques Birgé and Francis Gorgé on June 9