The 100th Anniversary in The Wire

Article in THE WIRE (Nov. 2018, #417, p.69, Modern Composition by Julian Cowley) :
Parisian Jean-Jacques Birgé has been making records, directing films and running the label Grrr since the mid-1970s. Now, with this exuberant hour-long project, he peers ahead to 2052 and celebrates the centenary of his own birth. A coda, marking his eventual death, has been composed by Sacha Gattino who salutes the playful ness of his friend's creative life, audible in their shared love of toy instruments and everyday sounding objects. A chiming music box, recorded during Birgé's childhood, provides a point of departure for his delirious romp through time. Skilfully crafted montage captures the flavour of each decade. Chanson xith lilting accordion, searing electric guitar or synths and orchestral pomp provide temporal markers, but within each frame a host of sounds are layered and scrambled. Birgé's kaleidoscopic imagination has produced a widly entertaining electroacoustic chronicle, oozing joie de vivre, naturally.
Face B @ La Maison Rouge on Oct. 27


Reservations are opened on the site of La Maison Rouge. You may assist to the return of Face B by Daniela Franco, Saturday October 27. Vincent Segal (cello), Antonin-Tri Hoang (alto sax, bass clarinet) and Jean-Jacques Birgé (keyboard, Tenori-on, Lyra-8) will improvise on images by the Mexican artist. Daniela Franco designs "covers of rare records which have disappeared". Have they ever existed? She also uses pictures following musical and graphic themes which every one will interpret his/her own way.
→ Face B | Performative Archive at La Maison Rouge-Fondation Antoine de Galbert, 10 bd de la Bastille, 75012 Paris, Saturday October 27 at 4 p.m. and 5.30 p.m., reservation if there is still some place : reservation@lamaisonrouge.org
100th Anniversary of JJB in Libération


Jacques Denis wrote a new article on JJB's new album in Libération!

Birgé is Citizen Jazz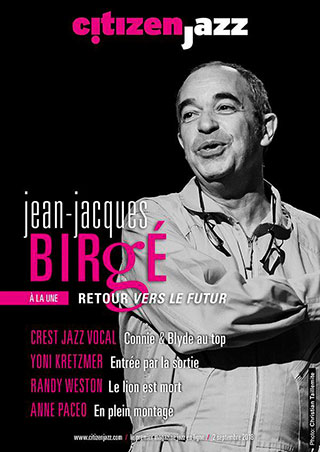 Cover, interview, articles, music, video on his 100th Anniversary, Jean-Jacques Birgé in on Citizen Jazz!
Jean-Jacques Birgé's 100 Anniversary on Télérama


First article on Télérama by Louis-Julien Nicolaou. Youth!
Distribution : Orkhêstra International / Les Allumés du Jazz / Bandcamp