RENCONTRES DE LA PHOTOGRAPHIE D'ARLES
- Soirées 8 au 12 juillet
Jean-Jacques Birgé is musical director for the Evenings Soirées at the Théâtre Antique.
With
Vincent Courtois
on the 8th at the Théâtre municipal with photographer
Michael Ackerman
and
Christian Caujolle
, and on the 9th at the Théâtre Antique
Edward Perraud
for the Prix Découverte and
Michèle Buirette
for
Jours de guerre
by
Jean-Noël Jeanneney
on archives of
journal Excelsior
. Dominique Besson composed music for Prix Pictet. Birgé is also in charge of music for Prix EPA and closing evening.
-
July 7 to end of August
Sound creation for 16 loudspeakers by
Jean-Jacques Birgé
at the church of Frères-Prêcheurs for the exhibition of
Monuments aux Morts
with Raymond Depardon and Léon Gimpel
.
6 NEW ALBUMS:
2 RECENT + 4 OUT OF THE PAST
Game Bling
2014 /
Remarques faites (ou subies) la tête en bas
2014 /
Birgé Hôtel
1998
/ Les archives de la planète
1986-90
/ Brut de répondeur
1977-1989
/ Improvisations
1981
BIRGÉ-RISSER-MIENNIEL
GAME BLING
15 fantastic improvisations by
Jean-Jacques Birgé
with
Ève Risser
(prepared piano) and
Jocelyn Mienniel
(flute, synthesizer), inspired by game Oblique Strategies conceived by Brian Eno and Peter Schmidt.
Recorded by JJB on March 6 2014.
REMARQUES FAITES (OU SUBIES) LA TÊTE EN BAS

Jean-Jacques Birgé
plays music with writer
Pierre Senges
telling his parabolic flight on Airbus Zéro-G. Recorded live on March 23 2014 at Observatoire de l'Espace du CNES (Centre National d'Études Spatiales), Paris, Festival Sidération - Online
YouTube
BIRGÉ-MONVOISIN-VITET-ARGUËLLES
VROD-LABARRIÈRE-SIRACUSA-HOUELLEBECQ
BIRGÉ HÔTEL
Birgé Hôtel
includes 2 concerts recorded at Instants Chavirés, Montreuil, on March 12 1998 with
Alain Monvosin, Jean-Jacques Birgé, Bernard Vitet,
Philippe Deschepper
,
Steve Arguëlles
, and on March 13 with
Jean-Jacques Birgé, Jean-François Vrod, Hélène Labarrière, Gérard Siracusa
,
Bernard Vitet,
Michel Houellebecq
.
BIRGÉ
LES ARCHIVES DE LA PLANÈTE
Music composed by
Jean-Jacques Birgé
for film archives directed by Jocelyne Leclercq for Cinémathèque Albert Kahn for which Jean-Jacques Birgé worked from 1984 to 2004, here
Paris 09-31
(avec
Michèle Buirette
) and Japanese trilogy
Bunraku, Shōwa Tennō, Deux fêtes au pays des Kami
.
BIRGÉ
BRUT DE RÉPONDEUR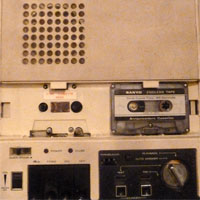 In 1977 answering machines were quite new in France. The whole thing is a kind of strong dramatic cut-up. For a few seconds, sometimes a few minutes, the necessity to go straight to the essential provoques short documentaries which produce the effect of fiction. Some are enigmatic, some crual, there might be an exclusive concert given for only one person... Being alone in front of a machine is like being in front a psychoanalysis!
The Sofa Machine.
Some will recognize some voices: Colette Magny, Lucilla Galeazzi, Tamia, André Dussollier, Franck Royon Le Mée, Bernard Parmegiani, Steve Stapleton, Laurent Bayle, Claude Tchamitchian, Jouk Minor, Marie-Jo Lafontaine, Dominique Cabrera, Bernard Eisenschitz, Jean-André Fieschi, Henry Colomer, Kent Carter, François Tusques, Henri Texier, Lindsay Cooper, Hélène Sage, etc.
BIRGÉ-SAGE
IMPROVISATIONS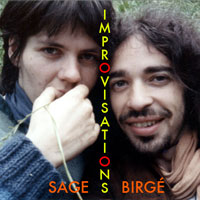 10 improvisations from 1981, first musical meetings Birgé with
Hélène Sage
. The last piece is a trio with Francis Gorgé...
We've also added several files to existing albums such as
Electra
with
Michèle Buirette
and
Laurent Jouin
, multimedia show
La Saga des Millar
, CD-Rom
Sethi et la couronne d'Égypte
(
index 33 à 39
), two songs (
index 17-18
), etc.